Ceremonial Flowers
Meet Janna
Aloha! My name is Janna Hoehn and I am extremely fortunate and lucky to reside on the beautiful island of Maui in the proud 50th state of Hawaii. Before making Maui my home I owned and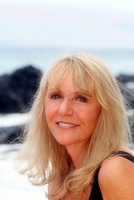 operated a floral shop in Southern California for 13 years. I was a full-service florist specializing in weddings. But since moving to Maui in 1992 I have devoted my professional time, creative talents, and energy exclusively to weddings.
I do take the utmost pride in my chosen profession to make YOUR special wedding day one to remember forever. From the smallest of details, such as a locket photo of a loved one attached to your bridal bouquet, to the larger details of your ceremony flowers and reception pieces, I deliver to the absolute best of my abilities.
I am extremely proud of my collaborative work with all of the fine wedding coordinators on Maui and I will continue that effort on YOUR behalf. Each and every order is a custom order to fit YOUR personal needs. I will do my utmost to provide the flowers requested but, since Maui currently does not have a flower market, sometimes flowers must be substituted. In addition, the selected flowers and their delivery are subject to unfavorable and problematic weather and seasonal conditions. I promise to do my best for YOUR big day.
I eagerly look forward to working with you to make YOUR wedding dreams, plans, and day come true!
Aloha Nui Loa (Lots of Love)
Janna